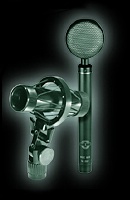 True condenser headset incl. headphone

This unique system consists of an amplifier unit and a small, remote condenser capsule with impedance transformer. The microphone capsule has a diameter of 21 mm, the elastic suspension a diameter of 35 mm. The capsule may be exchanged, allowing for the choices of the KA 400 cardioid, the KA 500 hypercardioid and the KA 100 omni. With these pick-up pattern options a true studio quality condenser microphone as a headset is now available. The headset performs well with phantom power ranging from 12 to 48 V. Ahighly effective wind screen and a -10 dB pad are available as accessories.
A magical HiFi sound.
Press
"There can't be many headsets on the market with such quality in both components."
Dave Foister, Prosound Magazine