Gooseneck -modular true condenser system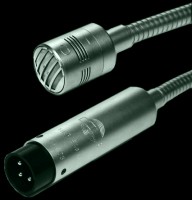 The 'true condenser' gooseneck is a complimentary part of our modular system. The standard configuration includes the KA 400 capsule mounted. This capsule is pre-adjusted for the speech proximity effect with a 12 dB cut at 50 Hz. As with most of our line, the MBP 648 S may be supplied with a matte black or non-reflectively plated nickel finish.
The stock item is supplied in a 250 mm length with an XLR connector, while a 3/8" threaded sleeve lateral outlet version with an open-ended 3 m cable is available upon request. You will not find a superior podium microphone!
Tip
Podium, console talkback, pulpits, conference tables